Functional Architecture and Activity model of Systems
Service based functional analysis
Your requirements
Perform a functional analysis of a domain
Distinguish between functions and functional blocs
Display the functional exchanges between functional blocs
Display how functional blocs are organized and their respective relations
Display the relation between the functional blocs and the applications
Display graphically the functional view of your system
Your problems
The current solutions you use are not satisfactory
You do not benefit a quality graphical display
Your tools are far from automatic...
Solution
With Amarco tools you can perform high end functional analysis. The functional architecture may contain:
functional blocs
functions
exchange points for functions
functional processes
a high quality automatic drawing leaves you time to concentrate on the contents of your analysis. Amarco will produce automatically a professional grade diagram.
Exclusive graphical management algorithms insure a professional quality for these automatically produced diagrams.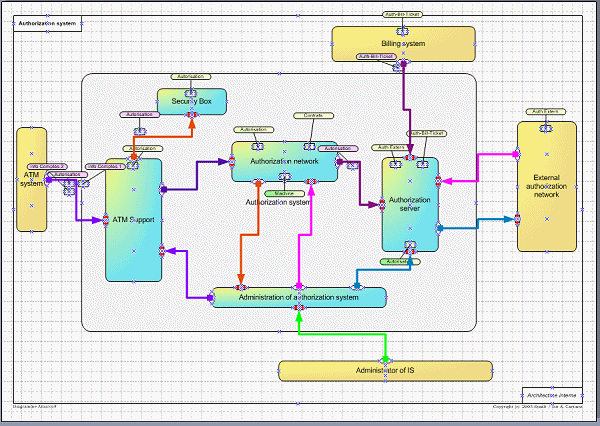 This diagram displays the entities (the data blocs) associates with the systems and the information flow.
Amarco can also display automatically the functions associates with the systems.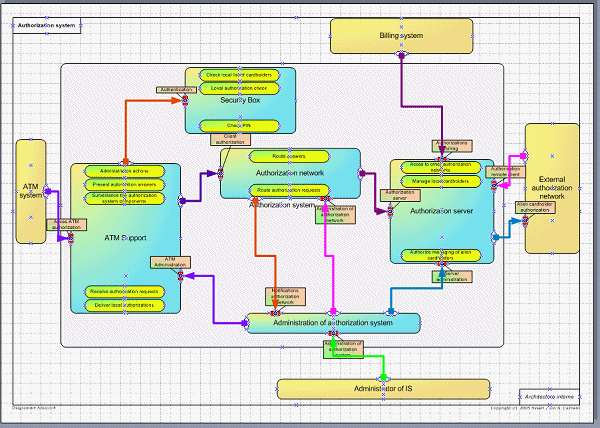 The yellow elements display the functions associated with the systems. The diagrams is produced automatically by Amarco software using database information.

Amarco can also produce a linked set of Web diagrams taking into account the functional view of your system. This enabled as drill-down, drill-up navigation inside the functional structure of your system. You find here an example of this type of navigation.